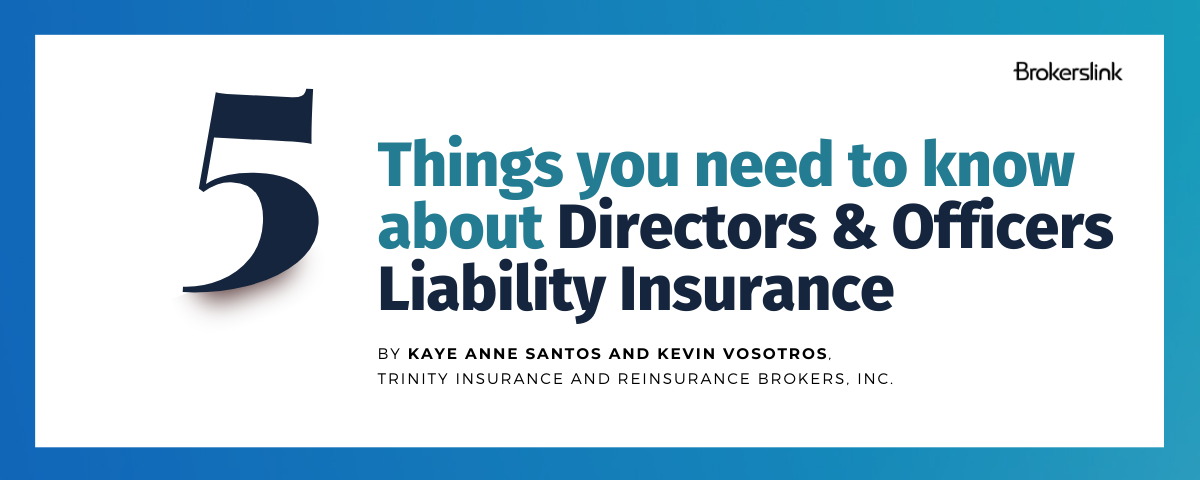 The legal system views directors and officers of an organization as having shared responsibility: they could end up fighting a court battle over something their colleague did, even if they were unaware of it. Directors and Officers (D&O) Liability Insurance protects directors and officers from claims made against them in the course of doing business. Below are five points to consider in order to gain a better understanding of this type of cover:
The definition of D&O Liability Insurance
this D&O Liability Insurance is a type of insurance that covers the directors and officers for personal liability arising from their management of an organization. It aims to protect the directors and officers against possible lawsuits alleging a breach of fiduciary duty such as wrongful actions and decisions.
Who is covered by D&O Liability Insurance?
This insurance may cover the following:
      - Past, present, and future directors and officers of the organization
      - Position being held at the time the act was committed
      - Directors and Officers of the company and its subsidiaries (except for subsidiaries with a separate cover)
      - Directors in affiliate companies but only those representing the interest of the insured company and its subsidiaries; it does not cover directors of other shareholders
      - Retired directors cover in case of non-renewal or non-replacement of policy
Why is D&O Liability Insurance important?
D&O Liability Insurance is important since directors and officers, no matter how prudent they are, may implement decisions that adversely affect shareholders, trading partners, competitors, suppliers, customers, or employees. And anyone from these groups of people may file a suit against the directors and officers. For the organization, the benefit of having D&O Liability Insurance is that it will be more competitive in attracting competent directors and officers.
What does D&O Liability Insurance cover?
For the directors and officers of the organization, the main advantage of having this kind of insurance is the protection of their personal assets. The following are the losses that can be covered by a D&O Liability policy:
      - Damages awarded or judgments entered
      - Settlements negotiated with the insurer's consent
      - Legal cost and expenses awarded vs. the insured but only in connection with a judgment which is covered in accordance with the policy terms
      - Defense cost (including defense cost for employment-related/labor cases)
Apart from the monetary coverage, D&O Liability provides peace of mind to directors and officers as they make risky decision for their organizations.
What is the process for D&O Liability Insurance?
When a charge is filed against the director or officer, the organization should contact its insurance broker or provider to inform the latter about the claim. The organization should also provide a report containing the details of the charge. The insurance broker or provider will assess if the claim is covered by the existing D&O Liability insurance policy of the organization. The claim might fall into three categories: administrative, civil, or criminal.
If you are a decision-maker for a for-profit privately or publicly held company, a non-profit, an educational institution, or a government entity—you need Directors and Officers Liability coverage.