Brokerslink and Swiss Re Corporate Solutions team up to "Empower each other for the future"
Since Brokerslink was founded, it has been our aim to create opportunities for our partners and affiliates to develop their knowledge and skills and help them to keep up to date with the latest trends in global programmes and risk management.
Together with Swiss Re Corporate Solutions (Swiss Re CorSo) we recently held an exclusive workshop for partners and affiliates titled "empowering each other for the future". 35 partners and affiliates from 18 countries attended the event at the Swiss Re Center for Global Dialogue in Zurich, which  brought together the expertise of senior leaders including the Group Chief Economist, Head of Weather & Energy, Head of Food & Agriculture as well as the Head IT International Business for EMEA and Heads of underwriting lines from across Swiss Re CorSo, to discuss innovative ideas and mutual business opportunities.
Our developing relationship with Swiss Re CorSo is extremely important to us, the team is committed to making their global capabilities, industry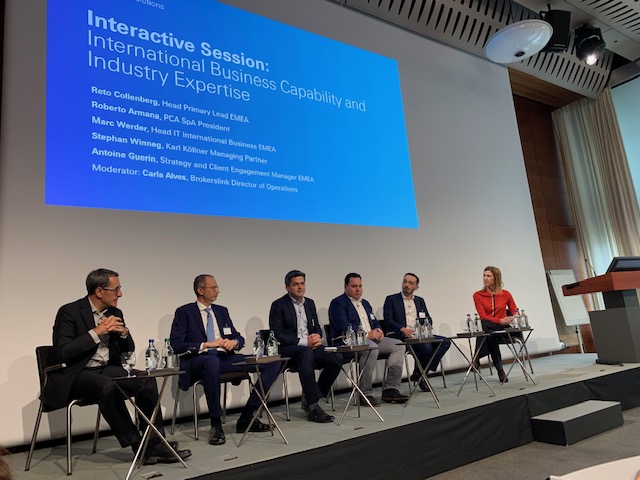 knowledge and expertise accessible to all our partners and affiliates, this workshop is an excellent example of how the company is aligned to the goals of Brokerslink and wants to work with us to support the network.
Working closely with Swiss Re CorSo we were able to develop a carefully tailored agenda to provide valuable and relevant information and insight for our delegates. Throughout the two days, there was a full programme of interactive workshops and presentations from senior figures within Swiss Re CorSo focused on a range of important topics including the evolving nature of risks impacting industry and the economy, the adoption of digital technologies to drive differentiation and how we can work together to empower each other against the backdrop of changing market conditions.
One of the highlights of the programme was the opportunity for partners and affiliates to meet and hear the views of Swiss Re Corporate Solutions, CEO Andreas Berger.
The workshop was beneficial for both organisations, it allowed Brokerslink partners and affiliates direct access to key decision makers at Swiss Re Corporate Solutions and the chance to hold some in-depth discussions on topics not usually possible to discuss on a day to day basis. The Swiss Re Corporate Solutions team also benefited from the unique regional, business and cultural insights that independent brokers from across Europe can provide.
"One of my personal highlights was the opportunity to learn more about the digitisation of our society and how this is impacting on the risk landscape. More radical changes are coming, and no insurer or broker alone can address these needs with a one-size-fits all approach. Our industry will be called on to cover more and more new risks and success will come from the dynamic sharing of knowledge and continuous collaboration between brokers and insurers that want to evolve. For me, that is why this workshop was so important for Brokerslink.
By Christos Gavriel, Regional Manager Europe.
Watch the highlights from the"Empowering each other for the future" workshop here: https://youtu.be/EQEOBJqP1cc