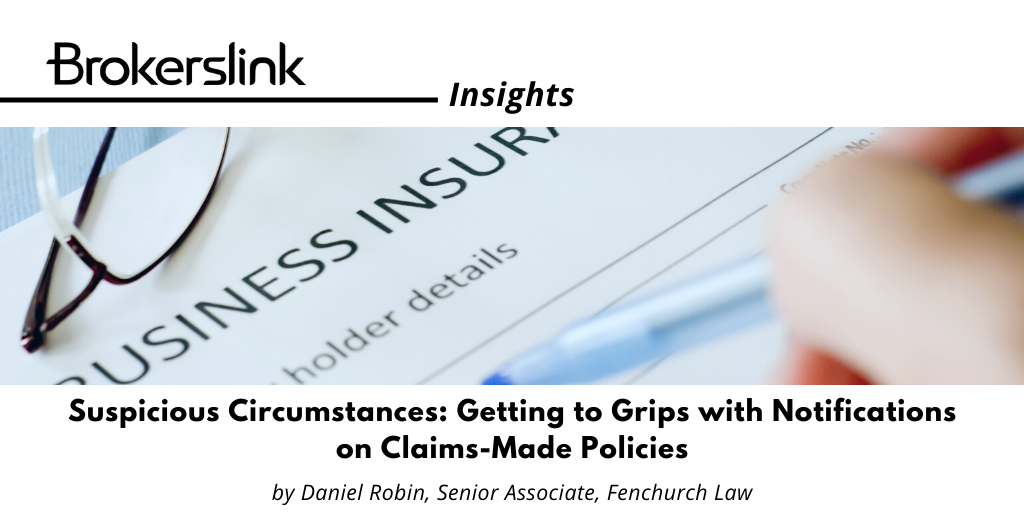 Notifying a "circumstance" to a claims-made policy and in particular determining what and when to notify can be a tricky area for policyholders and their brokers, with a number of potential pitfalls. Getting it wrong can lead to a host of coverage issues, including ending up with no cover for otherwise valid claims.
Claims-made policies (such as Directors & Officers and Professional Indemnity) cover both claims made during that policy period and also subsequent claims which arise from circumstances notified during the policy period.
What is a "circumstance"?
A "circumstance" has two elements. The first is that it has to be something of which the policyholder is actually aware.
In the case of a commercial insurance client, some policies specify that the relevant knowledge of the company is that of a particular individual (e.g. the Head of Insurance). If it is not specified, factors such as the company's size and the seniority and responsibilities of the individual will dictate whether that individual's knowledge is relevant.
It is key to recognise that the test is something of which the policyholder is actually aware rather than something of which it ought to be aware. The policyholder's awareness can arise from an external source, such as a complaint from a third party, or as part of an internal review.
The second element relates to the type of circumstance. It is an objective test based on the probability that a claim will be made. This is something which many policyholders misunderstand because they think, incorrectly, that what matters is the likelihood that a claim will be successful - i.e. they don't appreciate that a circumstance denoting a weak claim is still notifiable.
Because the test is objective, it doesn't matter how naïve a policyholder is regarding the seriousness of the problem and it does not matter if the policyholder genuinely but wrongly thought the problem would go away.
There are generally three different classifications which policies use to stipulate when a problem will rank as a notifiable circumstance:
- Something which "may" give rise to a claim. The threshold for this is very low and there only needs to be more than a fanciful chance of a claim being made.
- Something which is "likely" to give rise to a claim. This is the highest threshold and requires at least a 50% chance of a claim being made.
- Something which "might reasonably be expected" to produce a claim. This is considered to be a threshold between "may" and "likely".
When do they need to notify?
It is very important that policyholders appreciate not just what they need to notify but also when. Some policies will specify a particular time period, but others may use words like "immediately" or "as soon as reasonably practicable". Policyholders should always err on the side of caution and understand that, if the provision is a condition precedent and they do not notify in time, there will be no cover even if no prejudice is caused to the insurer.
An example of the notification challenge
In June 2019, a firm of architects called DSB were contacted by one of its clients complaining about a design of one of its shopping centres. The firm alleged that DSB's design was defective, and it has caused severe subsidence to the property.
DSB investigated and concluded that there was no basis for the allegations and there was no error in its design. It, therefore, opts not to notify its Professional Indemnity (PI) insurer.
In October 2021, DSB received a formal Letter of Claim from its client's solicitors. As it needed to incur legal costs to defend the claim, DSB notifies its PI insurer for the 2021/2022 policy year. However, its 2021 policy contains an exclusion for "any claims arising out of a circumstance which might reasonably have been expected to result in a claim which the insured was aware of our ought to have been aware of prior to inception of the policy" and the 2021/2022 insurers decline cover.
DSB then seeks to notify its 2018/2019 insurers who also decline cover because the 2018/2019 policy only covers "Claims made or arising out Circumstances notified during the Policy Period".
DSB is forced to deal with the claim itself.
As specialist policyholder coverage lawyers, Fenchurch Law are always happy to give guidance to partners and affiliates in the network on these types of issues.