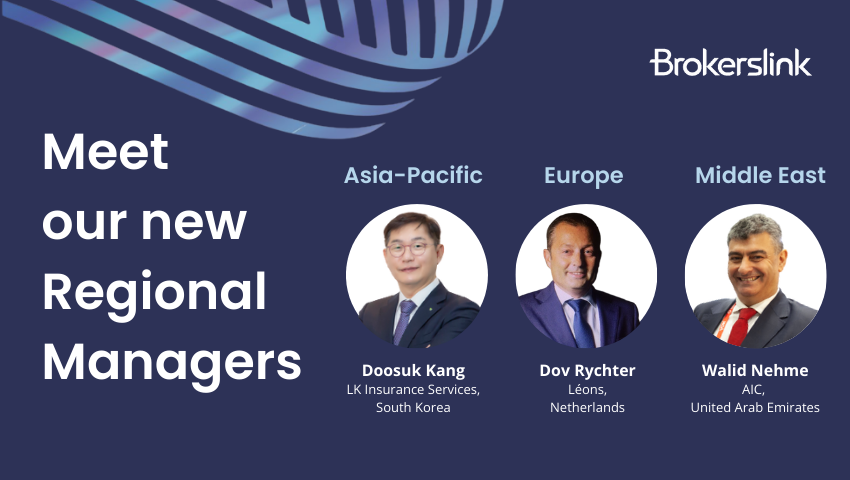 Global broking business Brokerslink has announced the appointment of three new Regional Managers for its network, reinforcing its presence and fostering collaboration in key regions across the globe.
The three new Regional Managers are Doosuk Kang in the Asia-Pacific region, Dov Rychter in Europe and Walid Nehme in the Middle Eastern region.
Doosuk Kang is CEO and founding member of LK Insurance Services (LK), Brokerslink's affiliate in South Korea and has guided LK to become one of the largest retail insurance brokers in the country. Dov Rychter is Commercial Director at Léons, Brokerslink's partner in the Netherlands and has previously held several senior leadership roles in the industry over the past two decades, including five years as Chairman of the examination board of Registered Insurance Broker (RMIA).
Walid Nehme is Group CEO of Associated Insurance Consultants (AIC). Headquartered in Abu Dhabi, AIC represents Brokerslink in Bahrain, Kuwait, Lebanon, Oman, Qatar, Saudi Arabia, UAE, and Jordan.  
The three new Regional Managers will be responsible for engaging closely with Brokerslink's partners and affiliates throughout their respective regions. They will play a crucial role in identifying and cultivating opportunities for collaboration, facilitating cross-border and international business, and bolstering Brokerslink's position in the market. The appointments underscore Brokerslink's commitment to providing exceptional service and expanding its global reach.
José Manuel Fonseca, Brokerslink's Chairman commented:
"I'm delighted to welcome Doosuk, Dov and Walid to their respective Regional Manager roles. Their industry expertise, leadership skills and deep understanding of their markets will be invaluable as we continue to grow and foster collaboration within our network. These appointments mark an exciting new chapter in our journey and further solidify our commitment to providing innovative solutions and cross-border business opportunities across the globe."