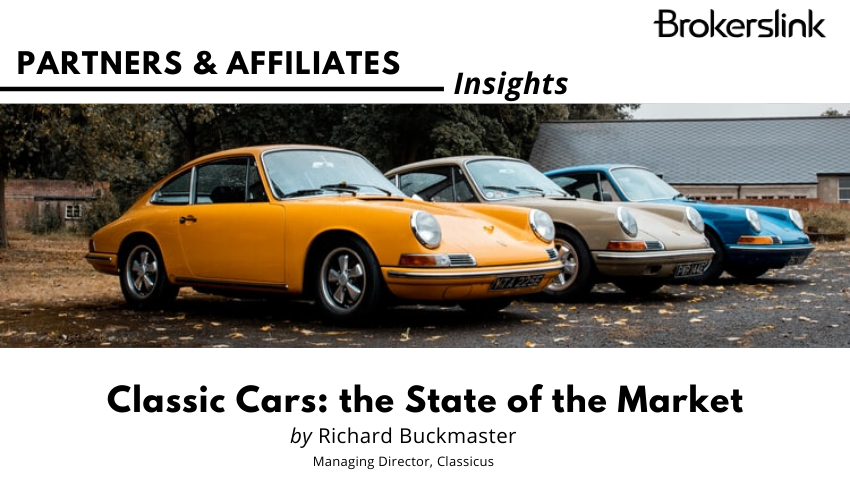 Richard Buckmaster, Managing Director, Classicus

Throughout these interesting times, we have seen one particular theme developing within our client base and that is, "what do you think my car is worth right now?".
This is a question that we are particularly well placed to answer as we feel that now more than ever it is important to focus upon this vital aspect so we can help the client get the best value in respect of their insurance portfolio. 
Classicus' experts have over 20 years' experience in the world of classic cars so it's fair to say that we have seen a number of trends over the years.  Plus, we also keep a keen eye on the markets to reference recent sales.
It is fair to say that recently we have seen sales figures depressed in the classic car market, however there are always exceptions. The more important classic cars are always in demand with collectors of taste and at the top end of this market the appetite has not diminished.  Buyers may often feel they have the upper hand in any negotiation however it is important also to remember the seller's part in any transaction.
The desirable cars at the moment are ones with an outstanding history and
provenance that is in no dispute.  Of course, there are not many of those cars around and they also tend to exist in the hands of larger collectors who have no particular ambition to sell.  The Alfa Romeo 8C from the 1930's was made in relatively small numbers and we know that there are more of them in existence today than were actually built.
This is where the history and provenance come in, as buyers will want an example with period racing history.  However, this means that ownership is likely to be a one-time experience as it not very easy to go and find another.  Therefore, top prices are likely in order to prise a good example out of an existing collection.
Likewise, the same goes with more modern examples such as the Ferrari 288 GTO of the 1980's.  The Pininfarina styling may not have been popular at the launch with some Ferrari aficionados but, now they are seen as highly desirable.  The main reason for this is the limited production numbers (it is believed just 278 were built) and the fact that as they were more recently produced there is no disputing the history of each car. At launch the car cost around USD 100,000 and ten years ago a good example could be had for around USD 400,000.  Now if you are lucky enough to obtain one it will cost around USD 2,500,000 and this figure has not shown any signs of depression in the recent market.
Houses are going ahead with virtual sales which are achieving around 70% sale rates.
During a challenging time like this, there will always be those out there who wish to seize advantage when it comes to investments.  This is where the world of classic cars is very similar in the overall buying consideration. They are portable assets which can easily be moved to whatever market shows the best signs of recovery, maximising investment potential. More importantly, however, is that they are more often purchases which are emotive and will put a smile on the face of the buyer whenever they drive or simply look at them.