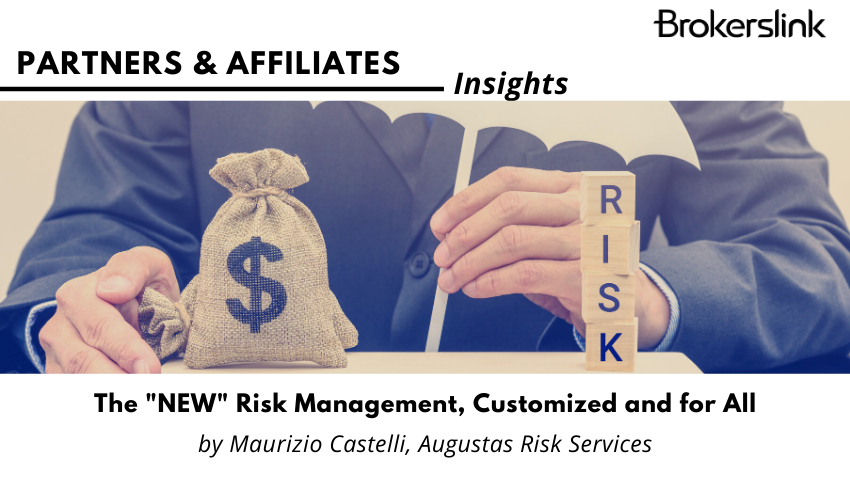 By Maurizio Castelli, CEO Augustas Risk Services
The Covid-19 pandemic has been a defining moment for the role of risk and risk management. In a matter of months, social and economic systems have been dramatically exposed to an unforeseen level of threat. Countless victims, entire market sectors under attack and a world-wide crisis that after several months is far from over.
In this scenario, we have all witnessed a structural change in the very concept of "risk". New types of risks have emerged. Old ones have changed. What not so long ago seemed "unreal", has suddenly become real. Although there is hardly any positive side in this tragedy, it has resulted in a complete change in the perception of risk, which is a useful lesson learnt. Today, private consumers as well as small or medium-sized businesses and large corporations are much more aware of what damage risks can bring to them, every day, and every moment.
In short, "risk" is no longer an extraordinary event, it is a fact, this has changed perceptions of risk.
Times have changed for risk management too. Last year cyber risk was perceived as almost the sum of all fears from business people. Now survival, operational continuity or better perhaps, "human" continuity, have jumped to the top of the priority list. Risk is no longer an invisible threat coming through wireless networks and silently hitting a company. Today, risk is a highly painful disease that kills people without making distinctions and, therefore, killing the very essence of any business: its people.
Risk management has become a matter of life, literally. Businesses are striving to define and implement continuity and crisis management plans. But "Googling" them is not exactly the best thing to do.
A professional approach to managing risks is clearly the answer but it also raises some questions. Are (or "were") risk managers ready to face such a crisis? More specifically, are we sure that risk management before the Covid-19 pandemic was able to protect a large number of companies? It's sad to remember that many companies, even large ones, did not rely enough on well-defined risk management frameworks, or that chief risk managers were not often invited to join the C-Suite or attend their meetings. Was there enough awareness of the devastating potential of risks?
Far from finding an answer, during these hard times Augustas Risk Services has been fast developing products to make risk management an instrument accessible to a wider range of companies, both industry-wise and size-wise, and providing a wider range of services.
Today risk management faces an historic challenge: mixing analysis/assessment with a more developed, customized, tailor-made application to adapt to different markets, sectors and company size. Risk management is vital. How can we make it "accessible" and "usable" as much as it can be?
The war on Covid-19 is not over and new outbreaks continue to pop up in different parts of the world. Risk management needs to be more flexible and adaptable. It could seriously become the "antibodies" for the economic system.