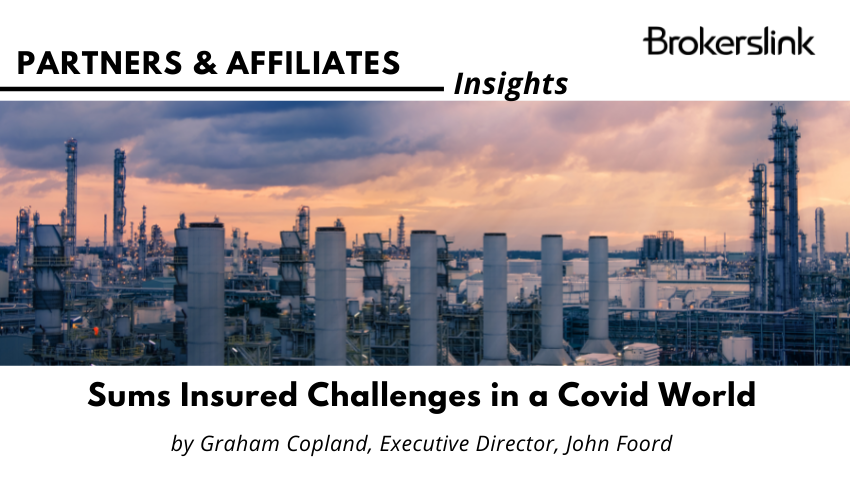 The economic impact of the global pandemic has left many clients' declared values under property damage policies way out of kilter with reality.  But there are solutions at hand for brokers keen to help their clients avoid disappointment in the event of a claim.
Underinsurance is rife in the commercial insurance market. And whilst it is not a new problem, the gap between assessments and reality has certainly been exacerbated by the Covid-19 pandemic, a situation that is storing up potential problems for the future.
If sums insured are short of reality it creates contention at a time of a claim, along with the resultant delays in pay-outs and final settlements that may not fully equate to the actual loss. And clients may look to blame their brokers in this situation.
There are a number of moving parts that are contributing to the recent escalation in costs.
Commodities are seeing unprecedented rises in demand matched to continuing supply constraints. Global steel prices for example have increased by between 80% and 115% since May 2020, primarily driven by renewed demand from China and the slow build-up of capacity that was idled during 2020.
Other commodity costs have also risen sharply, with copper up over 70%, and similar rises are being seen for other construction items such as tiles, bricks, wood and insulation.
Shipping costs have risen exponentially, with the cost of shipping a 40-foot container from China to Europe up over 500%.
Rolling lockdowns and border restrictions on movement mean that labour costs and movements are rapidly being disrupted too, not only increasing costs but extending rebuild periods. Social distancing and increased welfare rules are pushing up preliminary and site set up costs.
And on top of this there are foreign exchange fluctuations which add further complexity and uncertainty.
Common mistakes
The solution is simple in theory - get the values right first time and keep them updated. However, theory and practice are not the same thing and as a specialist in this area we have identified a number of common mistakes that are made when arriving at costs.
The main mistakes we see include indexing historic costs using consumer price indices (CPI), basing values on historic costs, or using net book values as basis for current values at risk.
Another common mistake is using recent tender prices (which may include one-off vendor discounts or O&M deals).
Finally, while in-house teams can add insights, they rarely approach the issue from an insurance perspective, usually resulting in estimates that can be too high as well as too low.
The solution is often to get policyholders to regularly review their approach to values, taking into consideration not only the past (indices and historic costs) but also the present and what may influence prices should reinstatement be required.
Traditional valuation involves reviewing current prices and putting the assets in the context of the wider macroeconomic environment, but also looking at the supply factors that could influence costs.
At John Foord we combine our deep knowledge and traditional valuation skills with sophisticated analytics and precise costs data to give clients a range of options when considering values. Our on-desk modelling has enabled us to successfully carry out assessments during Covid-19 despite the practical barriers to site visits.
Key tips for accurate sums insured
Carry out a regular review of declared values before a loss occurs
Do it quickly and often: valuations can now be done quickly, accurately and economically using a specialist
Be aware of and monitor cost changes to "Supply & Demand" and currency movements
It has been reported that, while around $36 billion is currently set aside for losses, up to $100 billion of Covid-related losses could feed through the insurance system globally and consequently we expect to see insurers challenge more declared sums in losses especially as claims departments and loss adjusters struggle to manage the higher workload post Covid.
In the final analysis, the use of a specialist to ensure accurate sums insured will pay major dividends to clients in the event of a major loss, speeding up claims settlement and reducing the potential for wrangling over costs and final settlements with the insurer. And as a broker, getting this right for clients is key to professional credibility and retention rates.